Craft #1 - Matryoshka Dolls
-
Jill @ Homemade by Jill
Matryoshka Dolls, or Russian Nesting Dolls, traditionally represent motherhood. With the "gifts" theme in mind, I hand painted this set of dolls to give to a new mom. It will look bright and cheerful in the nursery when baby is young, and becomes a fun learning toy for toddlers.
The fun part about this project is that you can paint a plain set of nesting dolls anyway you want. I choose to paint mine as a little family, but storybook characters, groups of animals, or a modern approach with only stripes or geometric designs would look great.
Craft #2 - Wooden Pendant Accessories
-
Ashley @ Lil Blue Boo
These are some small gifts I made for Christmas presents. I transferred images onto small pieces of wood and made them into necklaces, bracelets and keychains. I love them because they can be for girls, boys, adults or children. Each piece is about 1" tall and matched with coordinating leather cord or a key chain attachment.
Here are a few I made the kiddos....a robot necklace, a -shaped super hero necklace, and a princess and frog necklace with a distressed image from the movie: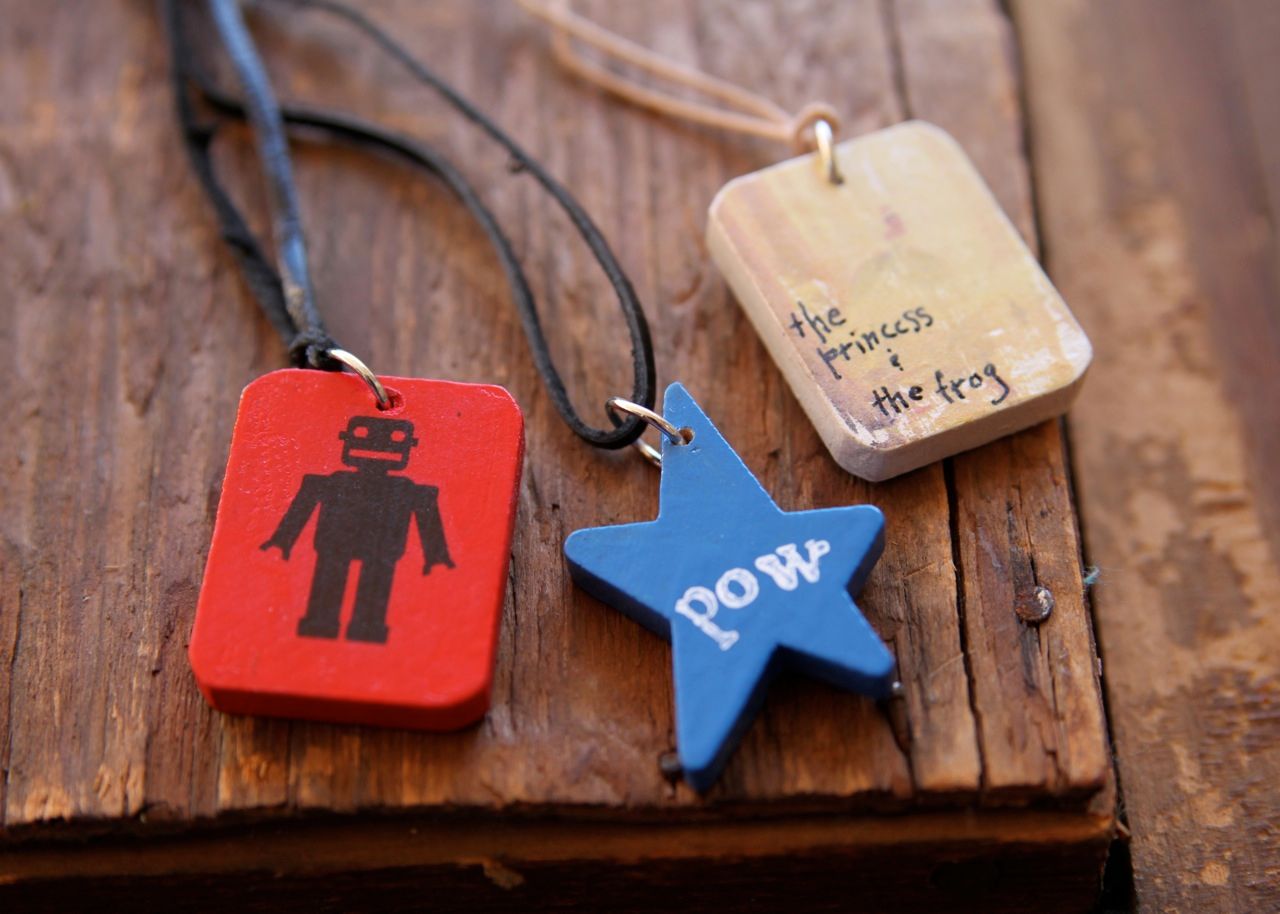 I made one for myself too.....a distressed piece with the latitude and longitude coordinates of where each member of my family was born: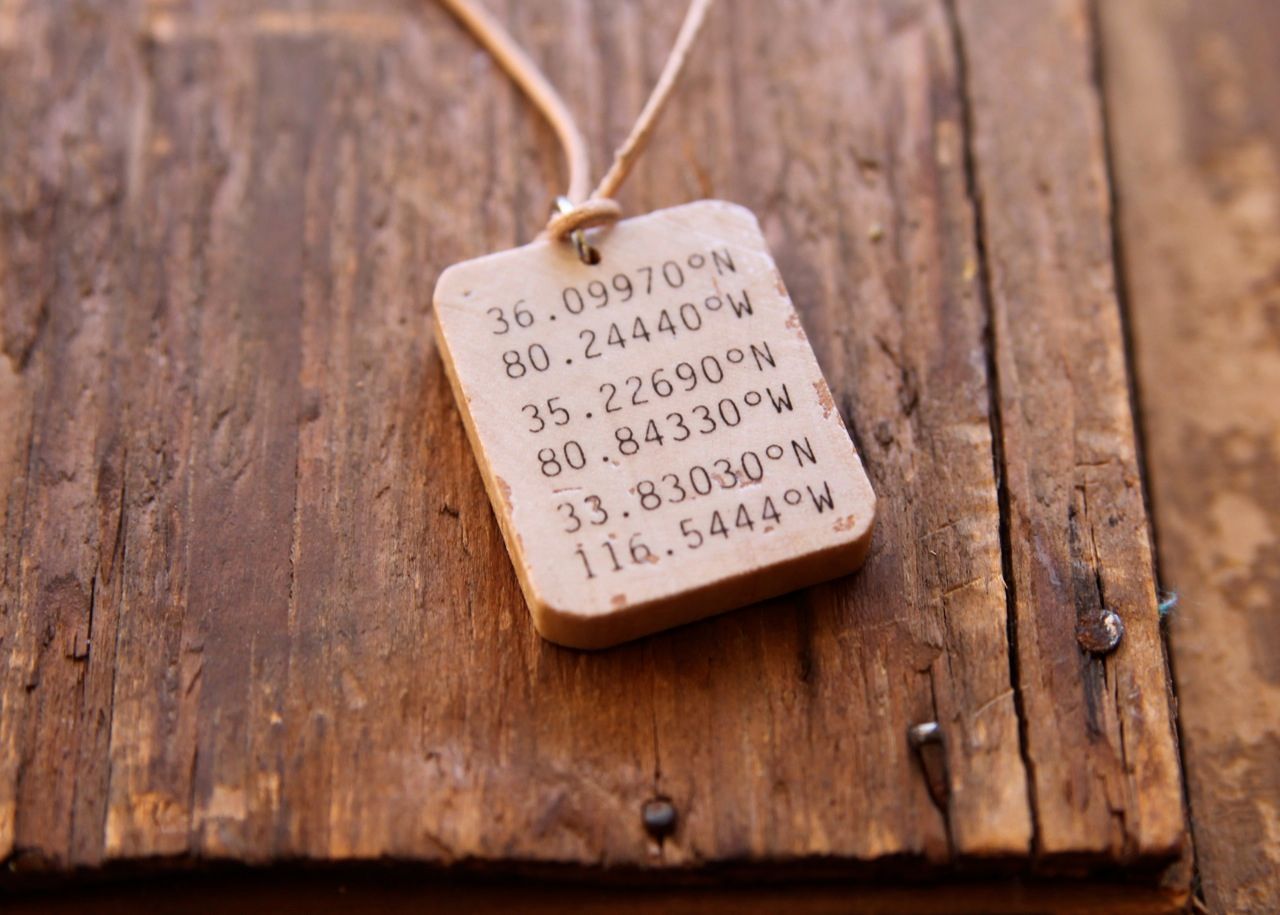 Craft #3 - Candy Bags
-
Dana @ MADE
Growing up in a family of 6 kids, you learn quickly that specialty foods are a hot commodity. A bowl of Lucky Charms? A fresh bag of Peanut M&Ms? Grab it fast or it's gone.
So, when Christmas time rolled around, my genius mother had the idea to give each child a particularly yummy present: food. For a few years, we each got our own box of our favorite
junky
cereal...and we didn't have to share it with anyone. Heavenly. A few years later we started getting our own box of Pop Tarts. And as we entered our teenage years, we found those Costco size boxes of
Trident
Gum wrapped up under the tree. One for each of us.
I've always loved this tradition and decided to carry it on with our family. And since my kids are giddy over candy, it was a done deal.....I made everyone, Candy Bags!
For the Swedish Fish lover, we have a brown zippered pouch, lined with polka dot and vinyl fabric; emblished with pleather fish cutouts:
Wish you could reach in and grab one of these chocolate morsels? Me too.
Fill Dad's bag up with his favorite chocolates. He'll throw it in his briefcase for an afternoon snack at the office. Also lined with fabric and vinyl, if it melts in his bag (and not in his mouth), it's easy to clean up!
Whether it's Resse's, licorice, chocolate prezels, or twix....everyone deserves their own bag for their favorite treat (or favorite toy).
Now let's get the candy party started! Grab your bag and load her up! We're headed to a Christmas evening movie, and I've got the munchies....
Craft #4 - Little Mommy Quilt
Got a little one that wants to mimic everything you do?
well here's the
gift
for that "little mother" in your life.
this little quilt is just right for your little one to baby her little dolly.
this quilt is also the right size to tote around anywhere, whether it be at home or on the go, this little quilt is perfect.
surely her friends will want one too, and would be the perfect
gift
for any "little mother" you know.